July 1st, 2020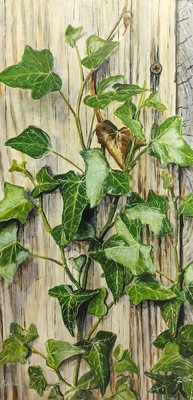 I figured this time of the year I'd be across the country or at least the state searching out new subject to paint. With the virus going around and myself in the high risk category my choice of sites to visit are basically out my back door. This brings back memories of being a small child confined to the fenced in yard. It also brings back the skills of a child creating a whole world out of a small area. The need to transform and record visions of my life has always been a big part of myself as an artist. What you put down may not seem so important now but I find these images are the seeds of memories, Perhaps there was a plant in your childhood yard that you remember and the vision of that brings many stories of other things. I remember a Four O' Clock bush on the side of our house whose seeds resembled a hand grenade. As a small boy is was quite a find as they fitted in perfect with the green plastic army men of the time. Later while playing with fire I learned they pop like pop corn. The painting here is some wild growing ivy on my shed in the back yard. It came from a small cutting that I got at my nieces wedding. Each table had one and it was so every person could have a living part of their wedding. That was some 20 plus years ago.
I may not be taking any long trips this year but subject matter can take you far from where you are at no matter where that may be.
March 21st, 2010
I truely believe if a person had enough money and just a little bit of talent they could go far. What does this mean in the world of of art? For one thing it means exposure, having your work seen. This in itself is nothing, but it's the first step to having doors open. Once one door opens it seems like another 2 open and so on. As an artist you must pay admission, not just in your work alone but in a real sense with real money. If You want to enter a show, there is a jury fee, Than a shipping fee or perhaps a table and booth fee. If you want to expand your word at a show with a brochure than you pay for that. If you want to get into a gallery there is the high cost of framing. The better the frame the better the image of your work. There are all sorts of means and ways to have your work seen., your own website or perhaps you pay to be on an online gallery. Maybe you will have a chance to have your work seen in an annual Art book, that too at a high price. They say New York City is the mecca to make it in the art world, this is true if you have the money or are lucky enough to have a rich sponsor. This goes back to my original statement about talent and money. Payolla isn't just for the music business it's alive and well in the fine arts. So what is an artist to do to try and get by and have food on the table. Stay tune to my next blog "The Man Behind the Curtain"